The Creator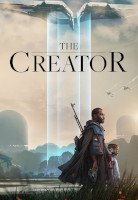 Directed by: Gareth Edwards
Cast: John David Washington, Gemma Chan, Ken Watanabe, Sturgill Simpson, Allison Janney
Read articles
Performance times
Whilst every effort has been made to ensure the information displayed here is accurate, always check with the venue before attending.

An old soldier finds a robot, in the form of a young boy, and it could change the course of the war.
Text supplied by third party.
News & features
'My favourite part of the story is the end': Gareth Edwards will not make a sequel to The Creator

27 Sep 2023
Film gossip
Gareth Edwards is not interested in making a sequel to 'The Creator'. The 48-year-old director has helmed the sci-fi thriller with artificial intelligence at the centre of the story but does not want to expand into a series as he loves endings as a film…
Tell us more about this listing.