Indiana Jones and the Raiders of the Lost Ark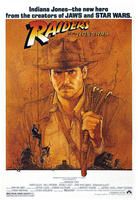 Directed by: Steven Spielberg
Cast: Harrison Ford, Karen Allen, Paul Freeman, Ronald Lacey, John Rhys-Davies, Denholm Elliott
Ford plays adventuring archaeologist Indiana Jones, who almost bites off more than he can chew when he turns up at the Ark of the Covenant in Nazi-infested wartime Egypt. Return to the breathless excitement of the Saturday morning serial with this rollercoaster of a movie, which is probably better than either of its sequels. Tongue held very firmly in cheek.
Read articles
Performance times
This film is not currently showing in cinemas.
News & features
Indiana Jones fans still hail Karren Allen with Raiders of the Lost Ark lines

13 Jun 2021
Film gossip
Karren Allen admits Indiana Jones fans still shout out 'Raiders of the Lost Ark' lines out to her four decades after its release. The 69-year-old actress – who played Marion Ravenwood alongside Harrison Ford in Steven Spielberg's 1981 blockbuster…
Raiders of the Lost Ark to tour with live orchestra, get presale tickets

27 Feb 2018
Classic first Indiana Jones film will have its John Williams score brought to life
The classic 1981 film, Raiders of the Lost Ark is to tour with a live orchestra in September. Presale tickets for the shows go on sale at 10am on Thu 1 Mar. Directed by Steven Spielberg, the film launched the hugely popular Indiana Jones franchise…
Tell us more about this listing.