Citizen Kane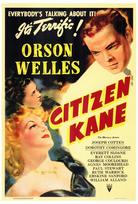 Directed by: Orson Welles
Written by: Herman J Mankiewicz, Orson Welles
Cast: Orson Welles, Joseph Cotten, Dorothy Comingore, Everett Sloane, Ray Collins, George Coulouris, Agnes Moorehead, Paul Stewart, Ruth Warrick, Erskine Sanford, William Alland
Stunningly successful biographical mosaic centring on a Hearst-like media tycoon. Welles' first film remains scintillating viewing for its sheer technical verve, narrative confidence and spellbinding performances.
Performance times
This film is not currently showing in cinemas.
Following the death of a publishing tycoon, news reporters scramble to discover the meaning of his final utterance. Orson Welles, Joseph Cotten, Dorothy Comingore.
Text supplied by third party.
Tell us more about this listing.