Ninotchka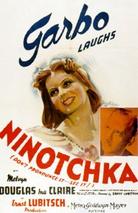 Directed by: Ernst Lubitsch
Written by: Melchior Lengyel, Charles Brackett, Billy Wilder, Walter Reisch
Cast: Greta Garbo, Melvyn Douglas
'Garbo laughs!' proclaimed the posters and indeed she does in this sparkling vintage Hollywood comedy romance, in which she plays a stern Russian diplomat worn down by Melvyn Douglas' inestimable charm and the attractions of Paris into an eventual, grudging, touching, emotional submission. Acerbic one-liners betray the hand of the great Billy Wilder, who worked on the script.
Performance times
This film is not currently showing in cinemas.
Tell us more about this listing.