Network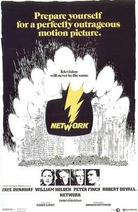 Directed by: Sidney Lumet
Written by: Paddy Chayefsky
Cast: Faye Dunaway, William Holden, Peter Finch, Robert Duvall
Overheated 70s satire of media and morals has Oscar-winning Finch as a fading news anchorman who finally freaks out in the studio, finds God and begins to spurt much evangelistic bombast, finally setting himself up to commit suicide on air. Ratings soar, of course, and station boss Holden rubs his hands in glee, a gesture every bit as self-congratulatory as Paddy Chayefsky's screenplay for the film.
Performance times
This film is not currently showing in cinemas.
Tell us more about this listing.