They Live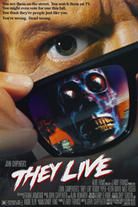 Directed by: John Carpenter
Written by: John Carpenter
Cast: Roddy Piper, Keith David, Meg Foster, Raymond St Jacques, Peter Jason, Sy Richardson, George 'Buck' Flower
UK release: 23 June 1989
Returning to his B-movie roots, Carpenter's classic is a sprightly sci-fi satire with a decidedly 1950s feel. As recession grips America, drifter Piper discovers that the yuppies controlling the economy are in fact aliens, and they're using subliminal advertising to keep the populace docile. Although the serious and political premise set up in the first half needs more of a follow-through, the knockabout action that follows is well handled, with entertaining results.
Watch trailer
Performance times
This film is not currently showing in cinemas.
They Live trailer
Tell us more about this listing.