Shame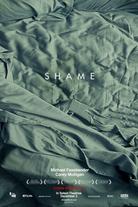 Directed by: Steve McQueen
Written by: Abi Morgan, Steve McQueen
Cast: Michael Fassbender, Carey Mulligan
UK release: 13 January 2012
Brandon Sullivan (Fassbender) is trapped in his own world of sex addiction. Then his sister, club singer Sissy (Mulligan), drifts into his life and apartment, upsetting the precarious knife edge of his existence. Fassbender is stunning in a strangely lyrical film about ugly desperation.
Performance times
This film is not currently showing in cinemas.
Tell us more about this listing.