Comfort and Joy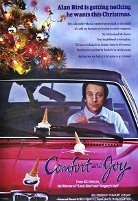 Directed by: Bill Forsyth
Written by: Bill Forsyth
Cast: Bill Paterson, Clare Grogan, Eleanor David, Alex Norton, Rikki Fulton
After his wife leaves him over Christmas, a DJ (Paterson) ends up mediating in an ice-cream war between two local factions, a process which helps rebuild his self-esteem. One of Forsyth's best films, notable for a fine early performance from Paterson in the central role.
Performance times
Whilst every effort has been made to ensure the information displayed here is accurate, always check with the venue before attending.

Comfort and Joy is a 1984 Scottish comedy film written and directed in Glasgow by one of Scotland's most renowned directors, Bill Forsyth (Gregory's Girl and Local Hero). The film stars Bill Paterson as a radio disc jockey whose life undergoes a strange upheaval when his girlfriend leaves him during the holiday season. Following a bizarre attack on an ice cream van by angry competitors, Patterson's character is led into the struggle between two families over the ice cream market of Glasgow. The film received a BAFTA Award Nomination for Best Original Screenplay and Dire Strait's lead singer, Mark Knopfler, provided the film's score. An expert on Forsyth's films, Dr. Hoyle hosted 'In Conversation with Bill Forsyth', an AHRI public lecture in 2014 with the esteemed director. Please join us for a wonderful night in celebration of the holiday season.
Text supplied by third party.
Tell us more about this listing.