The Apartment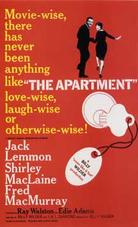 Directed by: Billy Wilder
Written by: Billy Wilder, IAL Diamond
Cast: Jack Lemmon, Shirley MacLaine, Fred MacMurray, Jack Kruschen
UK release: 15 June 2012
CC Baxter (Lemmon) sublets his bachelor pad to his philandering boss (MacMurray), only to regret it when Sheldrake gets designs on elfin elevator girl Miss Kubelik (MacLaine). Wilder and Diamond's breezy, sardonic approach to themes of infidelity and adultery ensure that the film shines as brightly as ever.
Performance times
10 Pilgrim Street, Newcastle upon Tyne, Tyne and Wear, NE1 6QG
Add to favourites
Thu 21 Dec
Tue 26 Dec
Tell us more about this listing.