The Woman in the Fifth (La femme du Vème)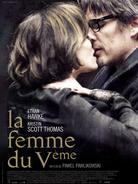 2011
France / Poland / UK
1h 25min
15
Directed by: Pawel Pawlikowski
Written by: Pawel Pawlikowski, Douglas Kennedy
Cast: Ethan Hawke, Kristin Scott Thomas, Joanna Kulig
UK release: 17 February 2012
Writer Tom (Hawke, understated) arrives in Paris to build bridges with his estranged family, but then his life falls apart – until he meets Margit (Scott Thomas). Some films err by spelling everything out, but Pawlikowski's elegant but baffling feature doesn't offer enough; despite elements of absurdist humour, it's underdeveloped, incomplete and unpersuasive.
Watch trailer
Performance times
This film is not currently showing in cinemas.
The Woman in the Fifth (La femme du Vème) trailer
Tell us more about this listing.