Death Watch (La mort en direct)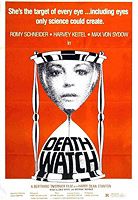 Directed by: Bertrand Tavernier
Written by: Bertrand Tavernier, David Rayfiel
Cast: Romy Schneider, Harvey Keitel, Harry Dean Stanton, Max von Sydow
Katherine (Schneider) is a novelist living in Glasgow who's been diagnosed with a terminal disease; Roddy (Keitel) befriends her, but unknown to her he works for a TV company with its own agenda. The basic idea is amazingly prescient but the plot is rather preposterous; Schneider's moving performance anchors it in emotional reality.
Performance times
This film is not currently showing in cinemas.
Tell us more about this listing.