Salomé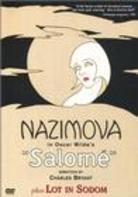 Directed by: Charles Bryant
Written by: Natacha Rambova
Cast: Mitchell Lewis, Alla Nazimova, Rose Dione
Performance times
This film is not currently showing in cinemas.
Based on Oscar Wilde's decadent play, Alla Nazimova and Charles Bryant's Salomé tells the biblical story of King Herod and his execution of John the Baptist at the request of Salomé, his daughter and object of lust. A commercial flop on release back in 1923, the film now enjoys cult status. It is revered for its camp acting and for Natacha Rambova's highly stylised Aubrey Beardsley-esque sets and costumes (many made with fabrics from Maison Lewis of Paris). The bold designs and the profusion of silver lamés, veils, turbans and peacock feathers make this a stunning visual treat. Screened with live piano accompaniment. This screening is a preview for the Fashion in Film Festival which takes place at GFT in March. Part of Glasgow Film Festival 2012: Fashion in Film.
Text supplied by third party.
Tell us more about this listing.