Nosferatu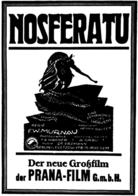 Directed by: F W Murnau
Cast: Max Schreck, Gustav von Wangenheim, Greta Schröder, Alexander Granach, Ruth Landshoff, Wolfgang Heinz
Language: Silent film, German intertitles
Schreck is a truly terrifying figure as Bram Stoker's famous vampire, looking more like a skinned bat than a human being. A wonderfully visual movie, with twisted shadows and sexual undercurrents placing it well above the Kinski/Herzog remake.
Performance times
This film is not currently showing in cinemas.
Nosferatu (1922) is arguably the film that gave birth to the horror genre, just as powerful and unsettling today as when it first thrilled cinema goers 100 years ago. Chris Green's new score is a haunting blend of electronic and acoustic instruments performed by the composer which, combined with FW Murnau's iconic images, makes for a genuinely remarkable and unique cinematic experience.
Text supplied by third party.
Tell us more about this listing.