Cape Fear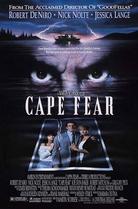 Directed by: Martin Scorsese
Written by: Wesley Strick
Cast: Robert De Niro, Nick Nolte, Jessica Lange, Juliette Lewis, Joe Don Baker, Robert Mitchum, Gregory Peck
Scorsese's stunning remake of the 1962 original leaves Silence of the Lambs pallid by comparison. De Niro is terrifying as white trash psycho Max Cady, out of prison and stalking the family of the lawyer who suppressed evidence to put him away. Disturbing sexual undertones, centred on 15-year-old Danny (Lewis), make this an even more uncomfortable, but unmissable, top-notch scare-fest.
Performance times
This film is not currently showing in cinemas.
Tell us more about this listing.