The Dark Knight Rises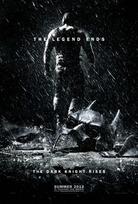 Directed by: Christopher Nolan
Cast: Christian Bale, Michael Caine, Gary Oldman, Tom Hardy, Anne Hathaway
UK release: 20 July 2012
Website: www.thedarkknightrises.com
Eight years after The Dark Knight, Batman (Bale) is in exile, wanted for the death of an attorney. But when jewel thief Selina Kyle (Hathaway) draws him back to Gotham City he is held to ransom by masked terrorist Bane (Hardy). Emotional, epic and set to be the blockbuster of the year.
Watch trailer
Performance times
This film is not currently showing in cinemas.
The Dark Knight Rises trailer
Tell us more about this listing.