Fanny and Alexander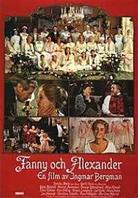 Directed by: Ingmar Bergman
Written by: Ingmar Bergman
Cast: Pernilla Allwin, Bertil Guve, Börje Ahlstedt, Anna Bergman, Gunn Wållgren, Erland Josephson, Mats Bergman, Jarl Kulle
Language: Swedish, German, Yiddish, English
Many of those familiar Bergman themes - religious doubt, a puritanical father, the materialisation of God - are present in this turn-of-the-century family saga, which was 300 minutes long in its original TV format. The harsher semi-autobiographical references are softened by the fact that it captures some of the childish joy of its young protagonist, particularly in the dazzling Christmas scenes.
Performance times
10 Pilgrim Street, Newcastle upon Tyne, Tyne and Wear, NE1 6QG
Add to favourites
Mon 18 Dec
'There should be no shame in us taking pleasure in our little lives.' Legendary filmmaker Ingmar Bergman's masterpiece, Fanny & Alexander , is translated to the stage by BAFTA award-winning writer Stephen Beresford and Old Vic Associate Director Max Webster. Amongst the gilded romance and glamour of 1900s Sweden, siblings Fanny and Alexander's world is turned upside down when their widowed mother remarries the iron-willed local bishop. As creative freedom and rigid orthodoxy clash, a war ensues between imagination and austerity in this magical study of childhood, family and love.
Text supplied by third party.
Tell us more about this listing.