Dark Shadows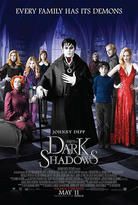 Directed by: Tim Burton
Written by: John August, Seth Grahame-Smith
Cast: Johnny Depp, Michelle Pfeiffer, Helena Bonham Carter, Eva Green, Jackie Earle Haley, Jonny Lee Miller, Chloë Grace Moretz, Bella Heathcote
UK release: 11 May 2012
Website: darkshadowsmovie.warnerbros.com
18th century vampire Barnabas Collins (Depp) escapes from his coffin to find himself in Maine in 1972. It's fun, thanks to a smart script and plenty of surreal humour; Burton regulars Depp and Bonham-Carter are a hoot, but Moretz and Green could have used more restraint.
Performance times
This film is not currently showing in cinemas.
Tell us more about this listing.