Total Recall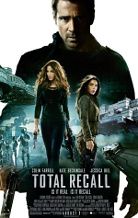 Directed by: Len Wiseman
Written by: Philip K Dick (short story), Kurt Wimmer (screenplay), Mark Bomback (screenplay), James Vanderbilt (screenplay)
Cast: Colin Farrell, Kate Beckinsale, Jessica Biel, Bryan Cranston
UK release: 22 August 2012
Website: www.totalrecall-movie.com
Factory worker Douglas Quaid (Farrell) visits the Rekall facility, to be implanted with fake memories of being a spy. Bad Idea. Farrell tries hard but director Wiseman, striving to be different from Paul Verhoeven's delirious 1990 adaptation of the same Philip K. Dick story, only succeeds in being dreary and unoriginal.
Watch trailer
Performance times
This film is not currently showing in cinemas.
Total Recall trailer
Tell us more about this listing.