The Lucky One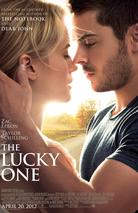 Directed by: Scott Hicks
Written by: Will Fetters, Nicholas Sparks
Cast: Zac Efron, Taylor Schilling, Blythe Danner
UK release: 2 May 2012
Website: theluckyonemovie.warnerbros.com
A US Marine serving in Iraq (Efron, stretching credibility) finds a photo of an unknown blonde beauty (Schilling), credits it with bringing him luck, and after returning home, sets out to find her. The latest adaptation of a Nicholas Sparks novel is schmaltzy, contrived, unconvincing and empty.
Watch trailer
Performance times
This film is not currently showing in cinemas.
YouTube: The Lucky One Trailer
Tell us more about this listing.