What to Expect When You're Expecting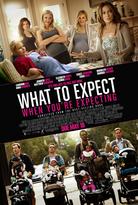 Directed by: Kirk Jones
Written by: Shauna Cross, Heather Hatch
Cast: Cameron Diaz, Matthew Morrison, Dennis Quaid
UK release: 23 May 2012
Website: whattoexpectthefilm.com
Based on the New York Times best seller of the same name, this comedy focuses on five couples about to have children. Celebrity couple Jules and Evan, author Wendy and her husband Gary and potential adopters Holly and Alex are among the pairs whose lives intertwine on the road to parenthood.
Watch trailer
Performance times
This film is not currently showing in cinemas.
YouTube: What to Expect When You're Expecting Trailer
Tell us more about this listing.