The Amazing Spider-Man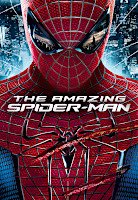 Directed by: Marc Webb
Written by: Alvin Sargent, Steve Kloves
Cast: Andrew Garfield, Emma Stone, Rhys Ifans
UK release: 3 July 2012
This spin-off from the Spider-Man franchise explores the story of young Peter Parker as he struggles to come to terms with being abandoned by his parents and his early confrontations with Dr Curt Connors' giant lizard. Director Webb and star Garfield breathe new life into this Marvel favourite.
Watch trailer
Performance times
This film is not currently showing in cinemas.
Elsewhere on the web

The Amazing Spider-Man Official Facebook Page
YouTube: The Amazing Spider-Man Official Trailer
Tell us more about this listing.