The Expendables 2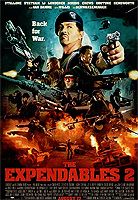 Directed by: Simon West
Written by: Sylvester Stallone
Cast: Sylvester Stallone, Jason Statham, Jet Li, Dolph Lundgren, Chuck Norris, Terry Crews, Randy Couture, Liam Hemsworth, Jean-Claude Van Damme, Bruce Willis, Arnold Schwarzenegger
UK release: 16 August 2012
Some of Hollywood's biggest action heroes (also including the impossibly macho line-up of Dolph Lundgren, Chuck Norris, Terry Crews, Randy Couture, Liam Hemsworth, Jean-Claude Van Damme and Arnold Schwarzenegger) unite in this sequel to the 2010 film The Expendables, as Mr Church (Bruce Willis) rounds up the team for an easy job. But when one of them is murdered, their task becomes a quest for revenge. Expect fist fights and explosions galore.
Watch trailer
Performance times
This film is not currently showing in cinemas.
The Expendables 2 Trailer
Tell us more about this listing.