Oblivion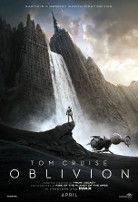 Directed by: Joseph Kosinski
Cast: Tom Cruise, Morgan Freeman, Andrea Riseborough
UK release: 12 April 2013
Website: www.oblivionmovie.com
Cruise stars as a court martialled soldier sent to a distant planet where he is tasked with destroying an alien race. Director Kosinski's follow-up to TRON: Legacy is based on a graphic novel he himself wrote.
Watch trailer
Performance times
This film is not currently showing in cinemas.
Oblivion trailer
Tell us more about this listing.