The Piano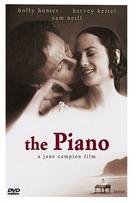 1993
Australia / New Zealand
2h
15
Directed by: Jane Campion
Written by: Jane Campion
Cast: Holly Hunter, Harvey Keitel, Anna Paquin, Sam Neill
Language: English, Māori, British Sign Language
Jane Campion's masterpiece follows mute Scotswoman Ada (Hunter) as she travels to 19th century New Zealand with her piano and daughter to enter into an arranged marriage. Soon she begins a passionate and erotic affair with her illiterate neighbour as a means to regaining her treasured instrument. Impeccable performances lift this highly charged piece to the realms of classic cinema. Undoubtedly one of the best films of the 90s.
Performance times
This film is not currently showing in cinemas.
Tell us more about this listing.