Burden Of Dreams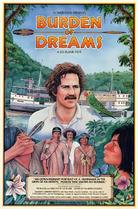 Directed by: Les Blank
Cast: Claudia Cardinale, Werner Herzog, Mick Jagger, Klaus Kinski, Jason Robards
Language: Spanish/English/German
A documentary on the making of Herzog's 'Fitzcarraldo' hits on material that's almost as crazily obsessive as the titular character himself. A temperamental cast (including a maniacal Kinski) and the director's monumental efforts to overcome Amazon difficulties make this consistently fascinating viewing, as good in its own way as classic disaster documentary 'Hearts Of Darkness'.
Performance times
This film is not currently showing in cinemas.
Tell us more about this listing.