The City of Lost Children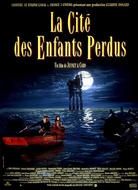 Directed by: Jean-Pierre Jeunet, Marc Caro
Written by: Gilles Adrien, Jean-Pierre Jeunet
Cast: Ron Perlman, Daniel Emilfork, Judith Vittet.
Language: French
On a mist-shrouded oil rig, mad scientist Krank ages prematurely because he cannot dream, and so he kidnaps children from the local port and steals into their sleeping hours. A visually wonderful, wacky fairytale from the makers of Delicatessen, that brims over with cinematic imagination.
Performance times
This film is not currently showing in cinemas.
Tell us more about this listing.