Junior Bonner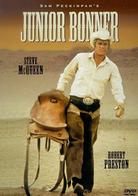 Directed by: Sam Peckinpah
Cast: Steve McQueen, Robert Preston, Ida Lupino.
Like many of Peckinpah's late westerns, this has an elegiac feel of an era ending. But this time it's set in the present, with aging rodeo star McQueen returning to his hometown to find it a changed place as the wilder way of life is becoming more respectable. Touching in ways you wouldn't have expected.
Performance times
This film is not currently showing in cinemas.
Tell us more about this listing.