Flesh and the Devil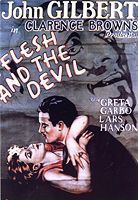 Directed by: Clarence Brown
Cast: John Gilbert, Greta Garbo, Lars Hanson
After winning the affection of a young woman, Leo is requested to serve five years in Africa. In his absence he asks his best friend to watch over her until he returns, but while Leo is away his friend marries the girl, creating a deadly love triangle on his return.
Watch trailer
Performance times
This film is not currently showing in cinemas.
Flesh and the Devil - trailer
Tell us more about this listing.