Girls! Girls! Girls!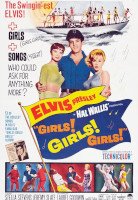 Directed by: Norman Taurog
Cast: Elvis Presley, Stella Stevens, Jeremy Slate
UK release: 21 December 1962
A young sailor must find a way to buy the boat that he and his father built.
Performance times
This film is not currently showing in cinemas.
Tell us more about this listing.