Sympathy for the Devil (One Plus One)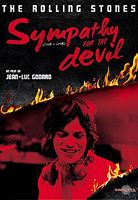 Directed by: Jean-Luc Godard
Cast: Sean Lynch, Mick Jagger, Brian Jones
Footage of The Rolling Stones recording 'Sympathy for the Devil' is interjected with scenes related to various ideological movements of the 60s, such as the Black Panthers and Communism.
Watch trailer
Performance times
This film is not currently showing in cinemas.
Sympathy for the Devil - trailer
Tell us more about this listing.