Lifeforce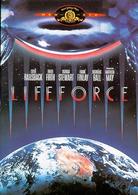 Directed by: Tobe Hooper
Cast: Steve Railsback, Peter Firth, Frank Finlay
On a mission to Haley's Comet, a team of astronauts inadvertently bring back a race of alien vampires who turn the population of London in zombies. The remaining survivors must find the source and destroy it before it's too late.
Watch trailer
Performance times
This film is not currently showing in cinemas.
Lifeforce - trailer
Tell us more about this listing.