Honey, I Shrunk the Kids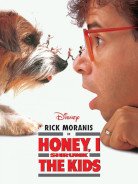 Directed by: Joe Johnston
Cast: Rick Moranis, Matt Frewer, Marcia Strassman
An inventor accidentally shrinks his two teenage children and two other neighbourhood kids to the size of insects, and the children must fight the dangers as their father searches for a solution.
Watch trailer
Performance times
This film is not currently showing in cinemas.
Honey, I Shrunk the Kids - trailer
Tell us more about this listing.