My Voyage to Italy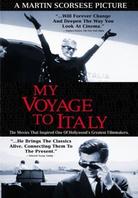 Directed by: Martin Scorsese
Cast: Martin Scorsese
A personal-documentary by Italian-American, award winning film director Martin Scorsese. In the same line as his earlier documentaries on American cinema, Martin Scorsese explores and shares his thoughts with the viewers on Italian cinema; the films that influenced him and shaped his directing style.
Watch trailer
Performance times
This film is not currently showing in cinemas.
My Journey to Italy trailer
Tell us more about this listing.