Joint Security Area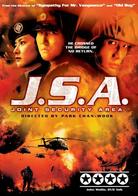 2000
South Korea
1h 50min
15
Directed by: Chan-wook Park
Cast: Yeong-ae Lee, Byung-hun Lee, Kang-ho Song
Language: Korean, English, German
A fatal shooting incident within the heavily fortified DMZ bordering North and South Korea sparks an investigation as two North Korean soldiers are allegedly killed by a South Korean soldier.
Watch trailer
Performance times
This film is not currently showing in cinemas.
Joint Security Area - trailer
Tell us more about this listing.