Star Trek: Nemesis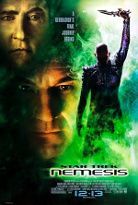 Directed by: Stuart Baird
Cast: Patrick Stewart, Jonathan Frakes, Brent Spiner
The cast of the classic TV show return in a mission to enact a peace treaty that turns into thwarting a Romulun attack on Earth.
Performance times
This film is not currently showing in cinemas.
Reviews & features
Tom Hardy 'terrified' filming Star Trek: Nemesis

17 Mar 2014
Film gossip
Tom Hardy didn't drink for three months while filming 2002's 'Star Trek: Nemesis' since he was "terrified" of the role. The 36-year-old star, who played Praetor Shinzon in the sci-fi film, insists he was "out of his depth" and extremely worried about…
Star Trek: Nemesis - trailer
Tell us more about this listing.