The Amazing Truth About Queen Raquela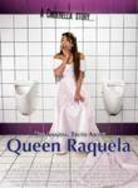 2008
Iceland, Philippines, USA, France
1h 20min
Directed by: Olaf de Fleur Johannesson
Cast: Raquela Rios, Stefan C. Schaefer, Olivia Galudo
Language: Icelandic, Visayan, English, Thai
UK release: 18 June 2008
Raquela is a transsexual - or 'ladyboy'- from the Philippines who dreams of leaving the streets of Cebu City to live a fairytale life in Paris. In order to fulfill her dreams she abandons prostitution for the more lucrative business of internet pornography. Her internet success enables her to make new friends, including Valerie, a ladyboy who lives in Iceland and Michael, the American owner of the porn website she works for; as well as pay for her sex change surgery. But will she be able to attain her dreams?
Watch trailer
Performance times
This film is not currently showing in cinemas.
The Amazing Truth About Queen Raquela trailer
Tell us more about this listing.