Hysteria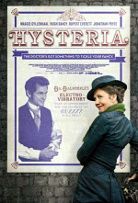 2011
UK / France / Germany / Luxembourg
1h 40min
15
Directed by: Tanya Wexler
Cast: Maggie Gyllenhaal, Hugh Dancy, Jonathan Pryce
UK release: 21 September 2012
Granville (Dancy) is a Victorian doctor whose treatment of 'hysterical' women is thwarted by injury, until his friend Edmund (Everett) steps in with a device he's developed. Wexler's irreverent look at the invention of the electro-mechanical vibrator is a welcome, if fluffy foray into taboo territory, but it could have had more oomph.
Watch trailer
Performance times
This film is not currently showing in cinemas.
Hysteria Trailer
Tell us more about this listing.