Caesar Must Die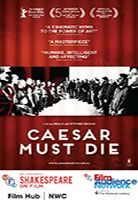 Directed by: Paolo Taviani/Vittorio Taviani
Written by: William Shakespeare, Paolo Taviani, Vittorio Taviani
Cast: Cosimo Rega, Salvatore Striano, Giovanni Arcuri
Language: Italian
UK release: 1 March 2013
Compelling documentary about the theatre company of Rome's Rebibbia prison, rehearsing Shakespeare's Julius Caesar with a cast made up of hardened prisoners. The Taviani brothers' sensitive approach and the impressive performances of the actors helped it to win the Golden Bear at this year's Berlin Film Festival.
Watch trailer
Performance times
This film is not currently showing in cinemas.
Caesar Must Die Official US Trailer
Tell us more about this listing.