A Hijacking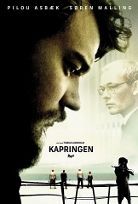 Directed by: Tobias Lindholm
Written by: Tobias Lindholm
Cast: Pilou Asbæk, Roland Møller, Søren
Language: Danish
UK release: 10 May 2013
Thriller about the hijacking of a freighter in the Indian Ocean, as experienced by both the desperate ship's cook (Asbæk) and the ice-cool CEO (Malling), who negotiates with the pirates from his boardroom. Negotiations drag on for months, making for commendable realism and fine performances but also slowing the pace to a crawl.
Performance times
This film is not currently showing in cinemas.
Tell us more about this listing.