The Day that Lasted 21 Years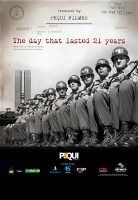 Directed by: Camilo Tavares
Written by: Camilo Tavares
Performance times
This film is not currently showing in cinemas.
Uncovering the guilty legacy of America's interference in Brazilian politics, Camilo Tavares' painstaking documentary grips with all the authority of a John Le Carré novel. At the height of Cold War paranoia over Cuba and the enthusiasm for socialist politics in South America, John F Kennedy and later Lyndon Johnson worked to engineer the overthrow of Brazil's democratically elected president Joao Goulart in a coup d'etat. White House tapes and newly released CIA documents reveal the full extent of what happened, including the positioning of the American fleet on nearby manoeuvres. An astonishing insight into events that led to twenty years of brutal military dictatorship.
Text supplied by third party.
Tell us more about this listing.