Ted 2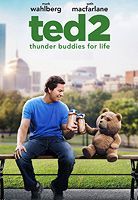 Directed by: Seth MacFarlane
Cast: Mark Wahlberg, Seth MacFarlane, Jessica Barth
Though the novelty factor of the original has disappeared, the return of foul-mouthed teddybear Ted (voice of MacFarlane) and his best bro and thunder buddy John (Wahlberg) is a welcome one. This shamelessly puerile comedy begins after our furry friend and his new wife Tami-Lynn (Barth) are denied the chance to adopt a baby, and sees Ted embark on a crusade to New York to appeal against the decision and reclaim his liberties. This sequel is lewd and loud, and for every gag that flops, two belters are right behind it.
Performance times
This film is not currently showing in cinemas.
Reviews & features
Ted 2 (Super Bowl TV spot)
Tell us more about this listing.