Fifty Shades of Grey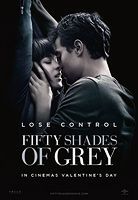 Directed by: Sam Taylor-Johnson
Cast: Dakota Johnson, Jamie Dornan, Luke Grimes, Victor Rasuk, Jennifer Ehle
UK release: 13 February 2015
Despite its troubling gender politics and distinct lack of plot, the likeable Johnson brings nuance and charm to a paper-thin character; Dornan manages to offer a hint of humanity; and given the many constraints, this sleek, fairly trim and occasionally sensual adaptation is the best imaginable outcome.
Watch trailer
Performance times
This film is not currently showing in cinemas.
Fifty Shades of Grey (trailer)
Tell us more about this listing.