Ghostbusters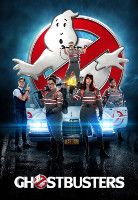 Directed by: Paul Feig
Cast: Kristen Wiig, Melissa McCarthy, Leslie Jones, Kate McKinnon
UK release: 11 July 2016
Physicist Erin (Wiig) finds herself teaming up with estranged high school pal Abby (McCarthy) and her eccentric engineer Jillian (McKinnon) in search of ghosts. Marred only by excessive reverence for the original, it's a spirited, funny and touching reboot which sticks two fingers up at sexist trolls.
Performance times
This film is not currently showing in cinemas.
Reviews & features
Ghostbusters (trailer)
Tell us more about this listing.