Venom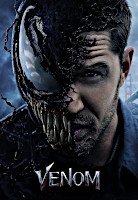 Directed by: Ruben Fleischer
Cast: Tom Hardy, Jenny Slate, Michelle Williams, Riz Ahmed, Woody Harrelson
UK release: 3 October 2018
Eddie (Hardy) is a reporter trying to expose the nefarious activities of dodgy billionaire Carlton Blake (Ahmed) when he's grabbed by an alien symbiote that gives him powers. Flailing about between genres, this never finds its tone and Hardy turns in a bizarrely shifty performance. A muddle.
Performance times
This film is not currently showing in cinemas.
Reviews & features
Venom (teaser trailer)
Tell us more about this listing.