Blade Runner 2049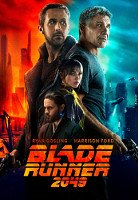 Directed by: Denis Villeneuve
Cast: Ryan Gosling, Harrison Ford, Ana de Armas, Mackenzie Davis, Sylvia Hoeks, Lennie James, Carla Juri, Robin Wright, Dave Bautista, Jared Leto
UK release: 6 October 2017
Blade Runner K (Gosling) is tasked with finding replicants who are passing themselves off as human, but then he makes an earth-shattering, game-changing discovery. Villeneuve's long-awaited sequel to Scott's original is beautiful, powerful and relevant; Gosling is exceptional, and Ford steals the show as the ageing but still gruff and quick-witted Deckard. A triumph.
Performance times
This film is not currently showing in cinemas.
Reviews & features
Blade Runner 2049 (teaser trailer)
Blade Runner 2049 (trailer)
Tell us more about this listing.