My Name Is Salt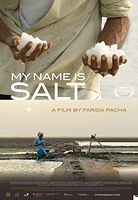 2014
Switzerland / India
1h 32min
12A
Directed by: Farida Pacha
Written by: Farida Pacha
Documentary on Indian salt producers and their yearly struggle to extract salt from the marshes of Gujarat, a process which is interrupted every year by the monsoon, which washes away all their unfinished labour. Without narration or onscreen conversation, the film has a hypnotic lyricism and becomes an uplifting affirmation of human resilience.
Performance times
This film is not currently showing in cinemas.
Tell us more about this listing.