Grimsby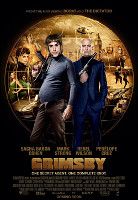 Directed by: Louis Leterrier
Cast: Sacha Baron Cohen, Mark Strong, Rebel Wilson, Isla Fisher, Annabelle Wallis, Penélope Cruz, Ian McShane
UK release: 24 February 2016
Football hooligan Nobby (Baron Cohen) discovers that his long-lost brother Sebastian (Strong) is a suave intelligence operative: cue wacky hijinks. A weak satirical thread about Tory scaremongering isn't enough to redeem the outdated laddish humour and the fact that Nobby is one of Baron Cohen's most forgettable characters.
Performance times
This film is not currently showing in cinemas.
A new assignment forces a top spy to team up with his football hooligan brother.
Text supplied by third party.
Reviews & features
Sacha Baron Cohen's new film upsets Grimsby

13 Jan 2015
Film gossip
Sacha Baron Cohen has made himself an enemy of Grimsby in England. The 43-year-old actor has visited various pubs in the town and has been filming scenes for his new comedy film - titled 'Grimsby' - but locals are incensed by his unflattering portrayal…
Penelope Cruz to star in Grimsby?

10 Jul 2014
Film gossip
Penelope Cruz could be set to join the cast of 'Grimsby'. The 'Pirates of the Caribbean' actress is in final negotiations to join Sacha Baron Cohen in the upcoming Sony spy comedy, according to The Hollywood Reporter. The film - which is being directed…
The Brothers Grimsby (trailer)
Tell us more about this listing.