Ben-Hur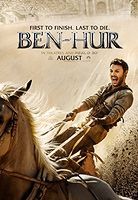 Directed by: Timur Bekmambetov
Cast: Jack Huston, Morgan Freeman, Toby Kebbell, Nazanin Boniadi
UK release: 7 September 2016
Judah Ben-Hur (Huston) is a wronged nobleman who does a lot of stuff but chiefly races in a chariot against adopted brother Messala (Kebbell). Forgettable and largely pointless remake of the 1959 classic, heavy on the action but light on plot, characterisation or entertainment.
Performance times
This film is not currently showing in cinemas.
Reviews & features
Ben-Hur Official Trailer
Tell us more about this listing.