The Best of Me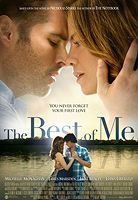 Directed by: Michael Hoffman
Cast: James Marsden, Michelle Monaghan, Liana Liberato
Language: Englsih
Dawson (Marsden), an insanely handsome, inexplicably single oil rig worker who's also got hidden depths (he reads Stephen Hawking), has pined for his high-school girlfriend (Monaghan) for 21 years. Then they meet. An even-more-listless-than-usual Nicholas Sparks adaptation with the button-pushing ability of a blind man and an ending of industrial-strength stupidity.
Watch trailer
Performance times
This film is not currently showing in cinemas.
Elsewhere on the web

The Best Of Me on Facebook
The Best of Me (trailer)
Tell us more about this listing.