Inside Out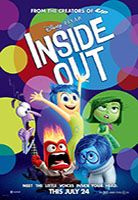 Directed by: Pete Docter
Cast: Kaitlyn Dias, Amy Poehler, Lewis Black, Mindy Kaling, Bill Hader, Phyllis Smith
UK release: 24 July 2015
Riley (Dias) is an 11 year old girl whose family is moving from Minnesota to San Francisco; her troubled mind is represented as a factory hub commanded by Joy (Poehler), Fear (Hader), Sadness (Smith), Disgust (Kaling) and Anger (Black). Delightful, poignant and hysterically funny coming-of-age story from Pixar.
Watch trailer
Inside Out (teaser trailer)
Inside Out (trailer)
Tell us more about this listing.